Click To Enlarge
| | |
| --- | --- |
| Category | Graphics & Design |
| Vendor | Adobe |
| Operating System | Windows 10 |
| Language | English, Dutch... |
Medialess download file. You will receive a link and serial or activation instructions within 5-10 minutes of purchase via email from our server. You may save setup file to disk to maintain your own backup copy.
1 PC Install (Additional PC installs available for $50ea under options at time of purchase)
Supports Windows 10 only
Animate is a rebranded version of Flash Pro
Animate is used to design vector graphics and animation for television series, Online animation, websites, web applications, rich web applications, game development and other interactive projects. The program also offers support for raster graphics, rich text, audio video embedding, and ActionScript 3.0 scripting. Animations may be published for HTML5, WebGL, Scalable Vector Graphics (SVG) animation and spritesheets, and legacy Flash Player (SWF) and Adobe AIR formats.[2] The developed projects also extend to applications for Android, iOS, Windows Desktop and MacOS.
Adobe Animate CC (formerly Flash Professional) is the industry-leading software for designers and developers who want to create interactive animations.

Animate CC includes cutting-edge drawing tools and the ability to publish animations to multiple platforms, such as Flash/AIR, HTML5 Canvas, or even custom platforms, to reach viewers on virtually any desktop or mobile device.

Membership includes the full version of Animate CC to download, install, and run on your computer.

Immediate access to all the latest updates and new features as soon as they've released.

Animate CC is part of Creative Cloud and comes with Adobe CreativeSync, so your assets are always at your fingertips right when you need them. CreativeSync powers your Creative Cloud Libraries and Adobe Stock, and it connects your mobile and desktop apps.
Animate just about anything.
Design interactive animations for games, TV shows and the web. Bring cartoons and banner ads to life. Create animated doodles and avatars. And add action to e-learning content and infographics. With Animate, you can quickly publish to multiple platforms in just about any format and reach viewers on any screen.
Create interactive web and mobile content for games and ads using powerful illustrations and animation tools. Build game environments, design start screens and integrate audio. Share your animations as augmented reality experiences. With Animate, you can do all your asset design and coding right inside the app.
Create characters that come alive.
Sketch and draw more expressive characters with Adobe Fresco live brushes that blend and bloom just like the real thing. Make your characters blink, talk and walk with simple frame-by-frame animation. And create interactive web banners that respond to user interactions such as mouse movement, touch and clicks.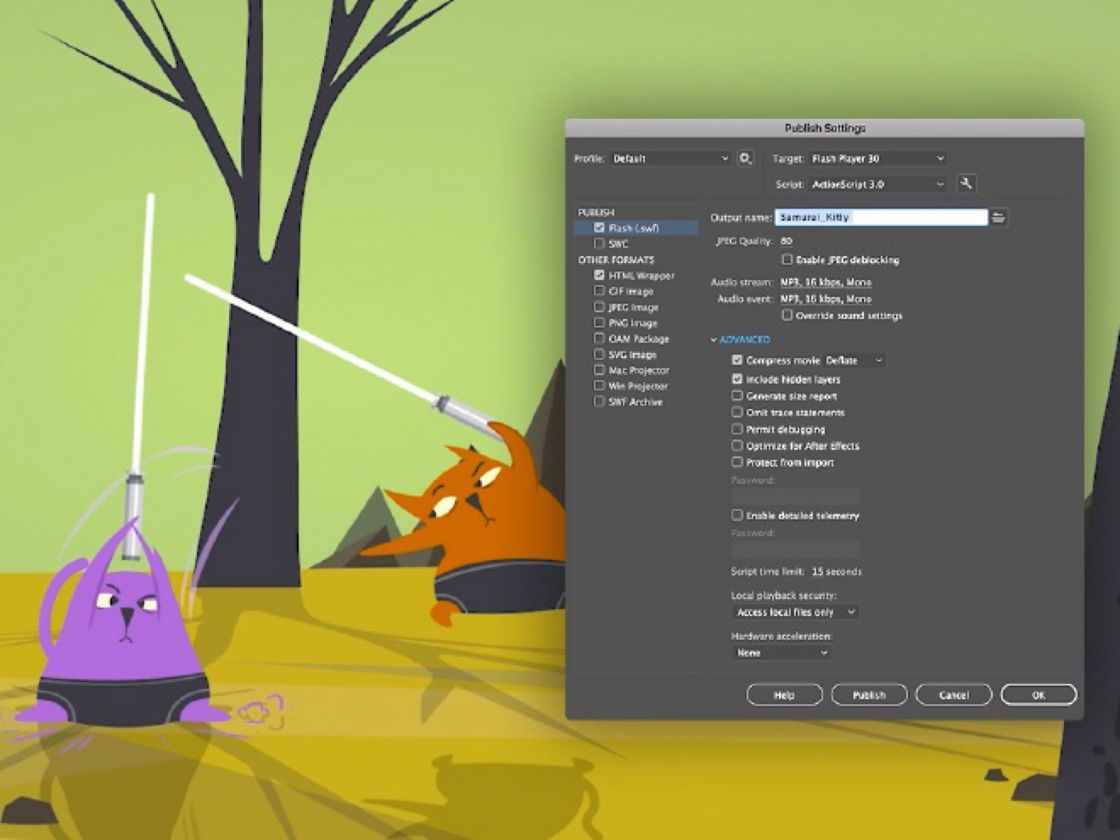 Reach your audience on desktop, mobile and TV by exporting your animations to multiple platforms, including HTML5 Canvas, WebGL, Flash/Adobe AIR and customised platforms like SVG. You can include code right inside your projects and even add actions without having to code.
Minimum system requirements for Animate
WINDOWS
| | |
| --- | --- |
| | Minimum requirement |
| Processor | Intel Pentium 4 or Intel Centrino, Intel Xeon, or Intel Core Duo (or compatible) processor (2GHz or faster processor) |
| Operating system | Windows 10 version V1903, V1909, V2004 and later. |
| RAM | 2 GB of RAM (8 GB recommended) |
| Hard disk space | 4 GB of available hard-disk space for installation; more free space required during installation (cannot install on removable flash storage devices) |
| Monitor resolution | 1024x900 display (1280x1024 recommended) |
| GPU | OpenGL version 3.3 or higher (DirectX 12 with feature level 12_0 recommended) |
| Internet | Internet connection and registration are necessary for required software activation, validation of subscriptions, and access to online services.* |
Adobe Animate 2021 Windows